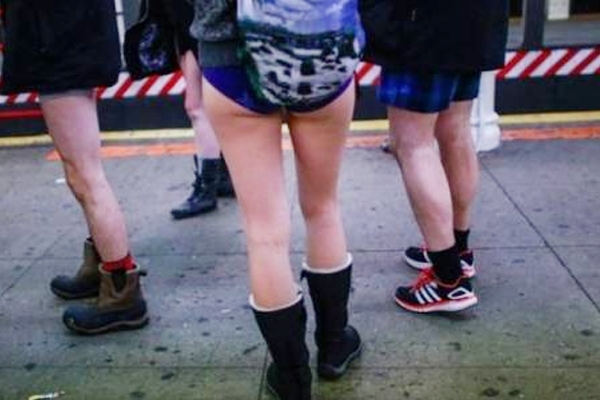 Sunday, some straphangers had been missing a standard item for most commutes, and it wasn not at all their laptops neither their tops at all.
Sunday was the 2017 No Pants Subway Ride, which is an annual show of defiance, not to mention cheek, when riders dispense with pants, skirts, and just about anything else other than shoes, socks and undies.
This occasion had started in 2002 with just seven participants on New York City Subway trains, the No Pants ride has now been a worldwide underground phenomenon geting more and more exposure every year.
According to the improv group's web site, the No Pants Subway Ride is organized by the Improv Everywhere comedy collective, launched in New York 15 years ago. The group bills the event as "an international celebration of silliness."
Jesse Good, one of the event's organizers, told, "We want to give New Yorkers a reason to look up from their papers, from their phones, and experience something that's a little different than their average run-of-the-mill stuff".
In addition to New York and other U.S. cities, pants-less and skirt-less subway rides had been scheduled to take place this year in dozens of cities around the world, including in Boston, Berlin, Prague, and Warsaw, Poland, the AP reported.
Philadelphia's event had been sponsored by a laundry delivery service, which asked the participants to show up with extra pants or other clothing to donate to charity.
By Prakriti Neogi