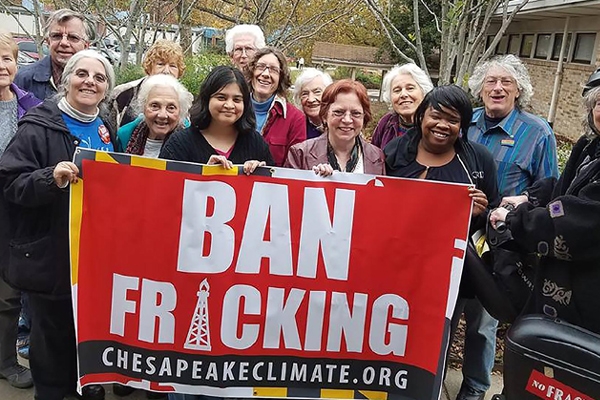 Legislation to ban the hydraulic fracturing in Maryland found overwhelming support in the state's House of Delegates. They passed a bill which would ban the controversial process of injecting liquids into the earth to extract natural gas or oil 97 to 40. The move comes after thousands of locals called for an end to fracking through the letters, petitions, and marches.
The House Bill 1325, which Democrats and eight Republicans passed in the House, would ban fracking throughout the Maryland. Opposition to the practice has been mounting in the state, with the counties and cities passing their own local bans. And the citizens have made their voices heard; according to the EcoWatch, in the last week over 1,000 people marched in Annapolis, the state's capitol, and locals have sent in more than 35,000 letters and also petitions to the General Assembly supporting a ban.
David Fraser-Hidalgo, the delegate who introduced the legislation, said that, across the country, fracking is polluting the air and water of the countless communities and making people sick. The passing of this bill is a huge step forward in the securing of Maryland as a national leader in combating climate change and protecting our citizens.
But the fight is not over yet. Governor Larry Hogan, a Republican, said that as long as strict safeguards are in place, he supports fracking. The House would need 85 votes and the Senate would need 29 votes to override the bill, and anti-fracking proponents said that they do not yet have those numbers in the Senate.
Currently there is a two-year moratorium on the fracking in state. But activists, locals, and some lawmakers said that there should be a permanent ban. Delegate Kumar P. Barve, a Democrat, told to The Washington Post, "Science has spoken, and we should terminate this practice here in Maryland.
Mrudula Duddempudi.