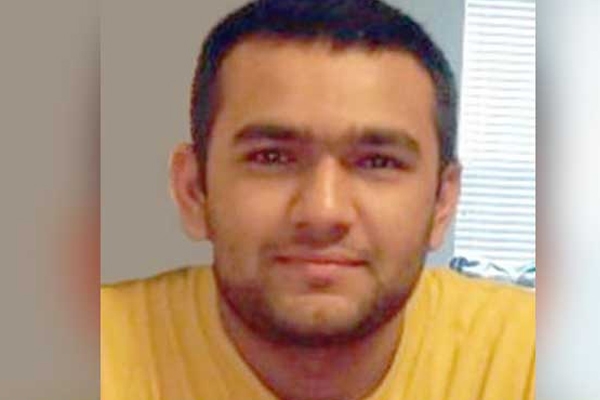 A 26-year-old Indian national, Bhadreshkumar Chentanbhai Patel, has been added to the FBI's most wanted list and also FBI offered up to $100,000 reward for any information leading to his arrest. The notice has come after two years of Patel allegedly killed his wife inside a Dunkin Donuts restaurant. Bhadreshkumar has been missing since.
The couple, who were visiting their relatives in the Hanover, Maryland were working at the Dunkin Dounuts eatery which was owned by them. Bhadreshkumar and also his 21-year-old wife Palak were working the night shift on 12th April, 2015 when he allegedly stabbed his wife multiple times with a large knife. Her body was found in the kitchen later on that day. The FBI also said that Palak had also been beaten brutally.
Investigators believe that Palak may have wanted to return to India, but Bhadreshkumar was against her idea.
Bhadreshkumar has been charged with first-and second-degree assault coupled with the first-and second-degree murder, as well as the weapons offence in connection with Palak's death. FBI has confirmed that both Patel and also his wife were Dunkin Donuts employees at the time of the crime.
The FBI has warned that Bhadreshkumar Patel should be considered as "armed and extremely dangerous."
According to a report in The Capital Gazette, FBI even released a video that shows the couple working on the day of Palak's death. The couple is seen walking together and also going behind a few racks in the kitchen, which are away from the camera. After sometime behind the racks the husband re-emerges, but wife does not. He is then seen to be turning off an oven and leaving the scene.
Australia scraps 457 visa program
A special Agent Jonathan Shaffer, who is investigating the case from the FBI's Baltimore Division believes that Bhadreshkumar, who is in Gujarat, could "either be with distant relatives in the US, or he could have traveled through Canada back to India". He also said, "Those are among the plausible options we are exploring."
Bhadreshkumar was last seen taking a hotel shuttle to the Newark Penn Station in New Jersey on 13th April, 2015 around at 10 a.m.
The police also said that Bhadreshkumar had a visa to be in the United States when he first arrived, but the visa had expired and there was no indication that Bhadreshkumar was able to legally leave the country. Anne Arundel County police Chief Tim Altomare called the murder as a"depraved act of domestic violence."
The FBI said that the extremely violent nature of the crime which was allegedly committed by Bhadreshkumar earned him a place on the FBI's Top Ten List. The county police said they believe that the FBI will certainly locate Bhadreshkumar and also provide justice for Palak that her family desperately seeks in order to find closure.
Mrudula Duddempudi.