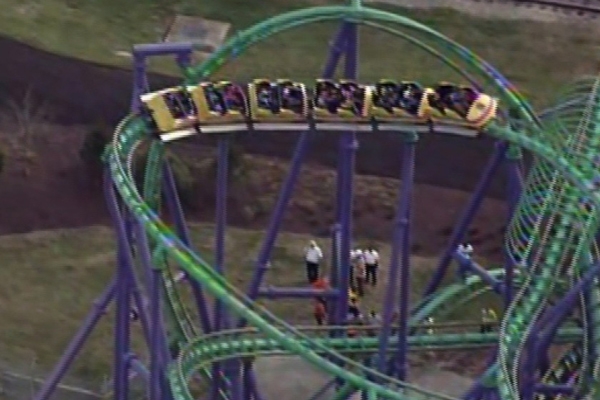 On Thursday night, two dozen of riders were stuck on a roller coaster at the Six Flags America in Largo, Maryland, said the authorities.
A rescue operation by the firefighters was underway to bring people down from the Joker's Jinx, said Mark E. Brady, who is a spokesman for the Prince George's County Fire Department.
Firefighters arrived at the amusement park at about 6 p.m., said Brady. There were no apparent injuries for the people, he said.
Brady expected that the full rescue would take up to four hours.
"The plan is to remove children first. The first adult and two children are in the safety of our bucket and being prepared to be lowered," tweeted Brady on his Twitter page.
On its website, Six Flags America said that the ride normally lasts for just over a minute and reaches a speed of 60 mph. Six Flags did not immediately respond to the requests for comment.
This is not the first time riders have been stranded on the Joker's Jinx. Similar incident has occurred in the year 2014, when 24 riders were stuck and it took more than four hours to rescue the riders. None of the riders injured in that incident, reported CNN.
Indian Couple Found Live Scorpion In Spinach
Mrudula Duddempudi.