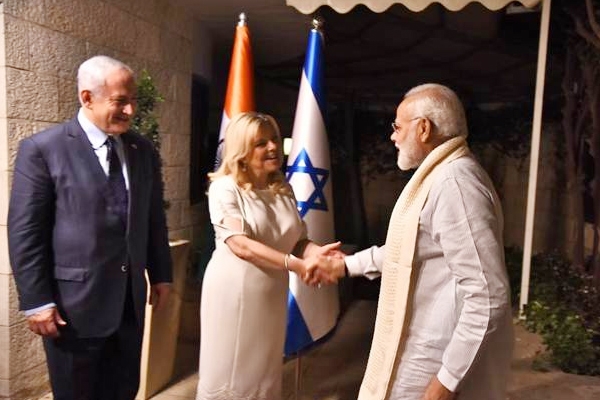 The big bang visit of Prime Minister Narendra Modi to Israel got under way on Tuesday. Bibi is going to be Modi's constant host and his words of welcome of "swagat hai mere dost" is likely to go some way in making him more recognisable in India, where Israel is perceived as an innovative and tenacious nation.
"We have waited for 70 years for you," Israeli Premier Benjamin Netanyahu greeted PM Narendra Modi to an effusive welcome that saw Modi reciprocating the warmth, saying his visit marked a "path breaking journey of engagement".
Netanyahu said, "We love India. We admire your culture, history, democracy and commitment to progress. I am confident of the real mathematics of life, of success of our partnership for many reasons, talent of our people."
Prime Minister Narendra Modi gifted his Israeli counterpart Benjamin Netanyahu replicas of two sets of relics from Kerala, regarded as key artifacts of the long Jewish history in India. They comprise two different sets of copper plates that are believed to have been inscribed in 9-10th Century, the PMO tweeted.
The first set of copper plates is a cherished relic for the Cochin Jews in India. It is regarded as a charter describing the grant of hereditary royal privileges and prerogatives by the Hindu King, Cheraman Perumal alias Bhaskara Ravi Varma, to the Jewish leader Joseph Rabban.
A new fast-growing Israeli flower was named after Prime Minister Narendra Modi, in a special gesture to mark the first visit of an Indian premier to the Jewish nation. Israeli Crysanthumun flower will now be called "MODI", officials here said.
"New fast-growing Israeli Crysanthumun flower named in honor of Prime Minister Narendra Modi and will be called "MODI". Indeed, a #GrowingPartnership!," Israel's official twitter handle said in a tweet.
"Crysanthumun flower will be named in honour of Prime Minister Narendra Modi. The flower will be called 'Modi'," Office of the Prime Minister tweeted.
"We (India and Israel) face several common challenges. The first of these is to defeat the forces of terror that has ravaged the world and our countries," Prime Minister Netanyahu said at a joint press conference in Jerusalem.
"We must resolutely oppose evils of terrorism, radicalism and violence that plague our time... We want to put in place a robust security partnership to respond to shared threats to our peace, stability and prosperity," the Indian PM said during the joint statement.
By Premji