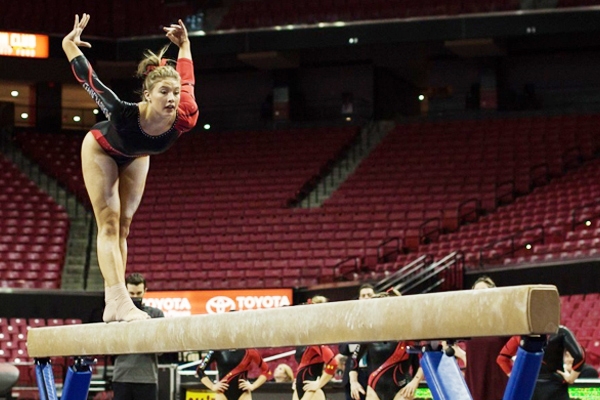 The Maryland gymnastics team arrived at the Big Five Meet in Illinois on last Saturday having recorded at least 195 points in the seven consecutive meets. During the span of four-weeks nearly, Terps vaulted from the position No. 44 to No. 32 in the national rankings.
But after a 10-day hiatus from their last meet, some of the state gymnasts were hesitant when they returned to action for the Big Five Meet. It was Maryland's longest gap between the meets since last January, where they went almost two weeks without a competition. The Terps finished last competition with 193.375 points.
A freshman Alecia Farina said that, the rest was a good thing for our bodies. But we were on a really good roll, and I do not know if that had something to do with it. Farina also said that she felt the Terps were not "out of meet shape," but their mindsets may have been affected by the time away from the competition.
Coach Brett Nelligan worried that his team was overwhelmed."Over the previous seven meets, our mindset was all about 'How close to perfection can we be?' For a brief second, I thought they lost that this weekend and instead they were worried about not making a mistake." Nelligan said.
Nelligan also added that, "It was frustrating, but if we can make something positive out of it, then it was worth it."
Maryland Girl Held Out Of Basketball Final For Wearing Hijab
In an effort to keep Maryland in its groove, Nelligan coordinated a mock meet at the practice a weekend before the Big Five Meet. The Terps performed all the four events in same sequence and with the same lineups they would do in the competition. The coach, Nelligan was pleased with how the Terps fared in the trial meet, but also noted that an actual meet is difficult to replicate.
Nelligan acknowledged that the time away from competition may have disrupted Maryland's rhythm, but did not directly attribute that to the Terps' performance.
Mrudula Duddempudi.