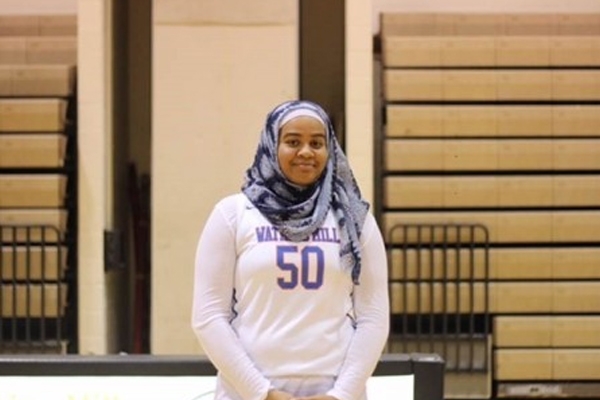 In the stunning turn of events, a Maryland girls basketball coach was forced to hold out one of her players from a regional final after the referees enforced a rule they had passed on previously all season. The referees deemed her hijab to be a violation of a rarely-enforced regulation which requires the players who wear a head scarf to produce "documented evidence" that they are required to do so for religious reasons.
As reported by the Washington Post, Watkins Mill junior Je'Nan Hayes was forced to sit out the team's regional final contest at the Oxon Mill because she wears a hijab during games, yet had not provided the official documented evidence required to prove that she wears the headscarf because she is a Muslim. The first-year basketball player had previously competed in all the 24 of her team's games previously without any concerns raised by the coaches or officials.
As one might expect, Hayes was crushed to be forced out of the team's final game, all because of the reasons related to her religion.
Maryland Passes Bill To Ban Fracking
Hayes coach, Donita Adams, said that she struggled to look Hayes in eyes after the officials told her Hayes could not play. And while all have confirmed that the officials were within the right to bar Hayes from the game, both the Maryland Public Secondary Schools Athletic Association and also Prince George's County officials have spoken out and said that they disagreed with the decision made by officials at the game. As per the post, the officials who issued ruling at the game have also already apologized to Hayes and her family.
Hayes mother, Carlitta Foster-Hayes, said that she is working with the director of the National Federation of High School Associations Officials Association to file a Proposal to change a formal rule to the NFHS itself.
For now, Hayes insists she will return to the Watkins Mill team for her senior season in the next fall, with the hope that she can emerge as a advocate for any who have their ability to participate in activities impinged by their religious beliefs.
Mrudula Duddempudi.