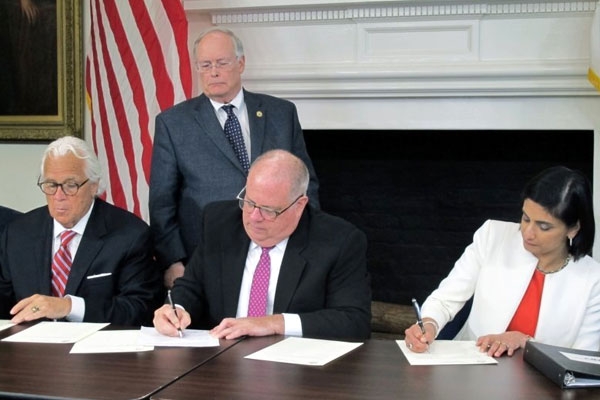 (Image source from: WTOP.com)
Larry Hogan, Governor of Maryland with the federal government has signed an all-payer health contract on Monday in order to enact the state's unique all-payer health care model, which the aforesaid will make incentives to amend care while saving money.
The five-year contract was signed by along with the administrator of the federal Centers for Medicare and Medicaid Services Seema Verma.
"The Maryland Model provides incentives across the health system to provide greater coordinated care, expanded patient-care delivery and collaboration of chronic-disease management … all while improving the quality of care at lower cost to the consumer," Hogan said.
He said the model emphasizes the quality of care over the quantity of care.
According to Hogan administration, the new declaration is anticipated to render an additive $300 million in savings a year by 2023, on whole $1 billion in savings over five years.
Maryland is the sole state that can set its own rates for hospital services, and all payers must charge the same rate for services at a given hospital.
Since that change focused on hospitals merely, the federal government required the state to develop a new model that would provide comprehensive coordination across the entire health care system.
Under the understanding, Maryland will be eased by federal restrictions and red tape that the other 49 states face in the Medicare program. Yet, the state will have to meet benchmarks of improving access to health care while improving quality and reducing costs.
Verma said the model is the first involving the Centers for Medicare and Medicaid Services that holds the state "fully at risk for total Medicare costs for all residents."
"The state and CMS have agreed on the goals, and now our job is to get out of the way and give the state the maximum flexibility to achieve success."
If successful, Maryland health secretary Robert Neall says the program could be replicated all over the country to address the financial strain on Medicare. Neall described the model as being "less transactional and more just taking care of the total person."
"The incentives are going to be aligned so that it's right place, right time, right purpose, right price, instead of, 'Come back and see me in two weeks, and we'll run the same set of tests on you,'" Neall said.
By Sowmya Sangam